A couple of weeks ago, I made reference to something I heard while attending a cooking class while on vacation: "Don't buy food. Buy ingredients and make food." Had I heard this, say, in my early 20's I'd probably have shrugged and don't given it much thought. But between a stint as a vegetarian and as the chief cook and bottle washer in the house, I realized that on some fronts we'd accidentally backed into this mantra without knowing it. While it may seem Pollyanna and a bit unachievable, there's several foods you buy in the store that you can easily make or process at home, and even manage to save money. And who doesn't like extra money?
Pasta sauce. This one 's a total gimme, between the readily accessible nature of the ingredients and the ease of preparation. But in case you haven't tried making your own pasta sauce before, I'll make it easy for you. For each can of crushed tomatoes you intend to use, add a similarly sized can of diced tomatoes. If you want a really punchy tomato taste, throw in a can of tomato paste. From there, you can season as you see fit: Fresh ground pepper, basil, oregano, savory, rosemary, paprika, garlic…seriously, just use your imagination.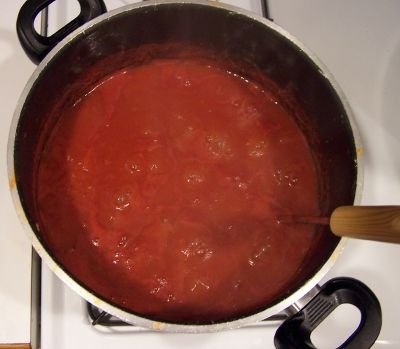 As for cooking the sauce, I've tried two approaches with positive results. The first and most obvious is to throw the concoction on the stove with medium heat, and stir occasionally until you've reached the desired consistency and temperature. The other approach is to use a slow cooker on low heat, but a word of caution here: You will get thinner sauce. So if you prefer something on the thicker side, well, then stove it is.
Salad dressing. I was always awful at making salad dressing at home, until one of my friends turned me onto a simple hack that makes it 1000% better. Get yourself a container of stone ground mustard – the one where you can still see seeds – and mix some in with your oil, vinegar, and spices. Totally adds that kick of flavor, and it balances the oil/vinegar ratio. I like making it right after I've made salad, and throw it in the fridge to chill until needed. One last point here: Use this avenue as an excuse to try new vinegars and oils. Not only is this becoming a haute trend that will make you the envy of your friends, but it provides a range of flavor beyond balsamic and EVOO. Like champagne vinegar and truffle oil, for example.
Coffee. OK, I'm not actually roasting my own coffee, even though that is surprisingly simple to do at home. But once I became a whole bean convert it made me wonder why I ever bought the ground stuff in the first place. A couple of reasons why this is the route to go. Not only does it lead to fresher coffee, but it also allows you an avenue through which to add your own flavor notes into the blend pre-grind. Try adding pumpkin pie spice, a stick of cinnamon, or a couple whole peppercorns to the grinder. You're probably noticing the experimentation theme by now.
Peanut/almond/cashew butter. Do you own a food processor? Then you own a nut butter production unit! And the best part is that, unlike their pre-processed counterparts, bulk nuts are surprisingly affordable. This also allows you to control the salt content, which can be problematic for some individuals who would otherwise like a PB&J. Unlike some of the other ideas here, this takes some patience and attention, as you'll need to check for consistency and oiliness as you go along to make sure you get what you want. A fun hack for adding flavor? Try fruit oils, like lemon or orange.
Ice cream/frozen yogurt. OK, this does take a bit of investment, but having made several batches of frozen flavor fun, I fully support doing this one at home. For one, it's easy: Freeze the cylinder, follow the recipe, and promptly freeze. You'll also be surprised at the utility of vodka in homemade churning; it helps the homemade stuff to freeze up the right way and adds another layer of flavor to your mix. Making your own frozen yogurt is especially fun if fruit like cherries and peaches are in season – fresh cherry frozen yogurt on a hot day? Awesome. As an added bonus? You can use Greek yogurt if you're feeling frisky.
Even when you factor in the time cost of money, much of what we've discussed here not only provides for tastier, healthier products than what you can buy off the shelf at the store, but can result in a significant savings.
QOTD: What do you make at home instead of purchasing at the store?
Related posts: